A tactical collar is a term used to describe a variety of dog collars that predominately focus around being a practical solution for dog handling and working dogs. They often feature uprated and more durable materials.
It becomes even more important to choose the correct hardware when you have a strong dog breed or a dog that loves to pull. That's why many owners are now looking to higher quality products. Dog collar failure is not something you want to experience at a busy road or when your loved one spots a cat! A strong dog can snap weakly built dog collars made with cheap hardware and leave you standing with an empty lead.
Main differences between a tactical dog collar and regular collar:
Tactical Dog Collar – Wide Nylon collars that often feature a handle along with a metal buckle or a double roller buckle
Regular Dog Collar – Normally thinner and are secured with a plastic clasp
So if you're reading this you've probably decided that your next dog collar will be the next logical step to a more serious product. Whether your current dog collar has failed you or you would like to remove the risk of a possible dog collar failure, you're serious about your quest!
In this article we will be primarily focusing on the great features of our tactical dog collars and how to find the right size for your dog. We want you to make the right selection the first time without any confusion.
Firstly, sizing…
Many sizing mistakes can be avoided by measuring your dogs neck instead of making a guess.
How to measure using a cable or string:
This can be easily done by grabbing nearby cable or piece of string and measuring either the centre or the smaller area of your dogs neck up behind the ears. If you measure the thicker area by the shoulders the collar may not adjust smaller and it will slip over your dogs head. Please ensure to leave enough space so it's not too tight (two fingers between the collar and neck should suffice). After you have done this then just use a tape measure to measure the cable or string and get your dogs neck size.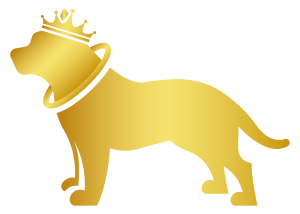 How to measure using their current collar:
Do not measure end to end. This is a very common mistake
Measure from the arrow indicated below on the 'male' end of the buckle (This is where the end of the female side of the connector meets the male side) to the female end of the collar as displayed in the second image or to the hole you're currently using.
Please remember to allow for some slack for comfort.
Now let's talk specs
Width
Our tactical collars are 2″/5cm wide which look great on all medium to large sized dogs. To give you an idea of size, our handsome model below is wearing a 5cm Tactical collar, he's just under 30kg/66lbs.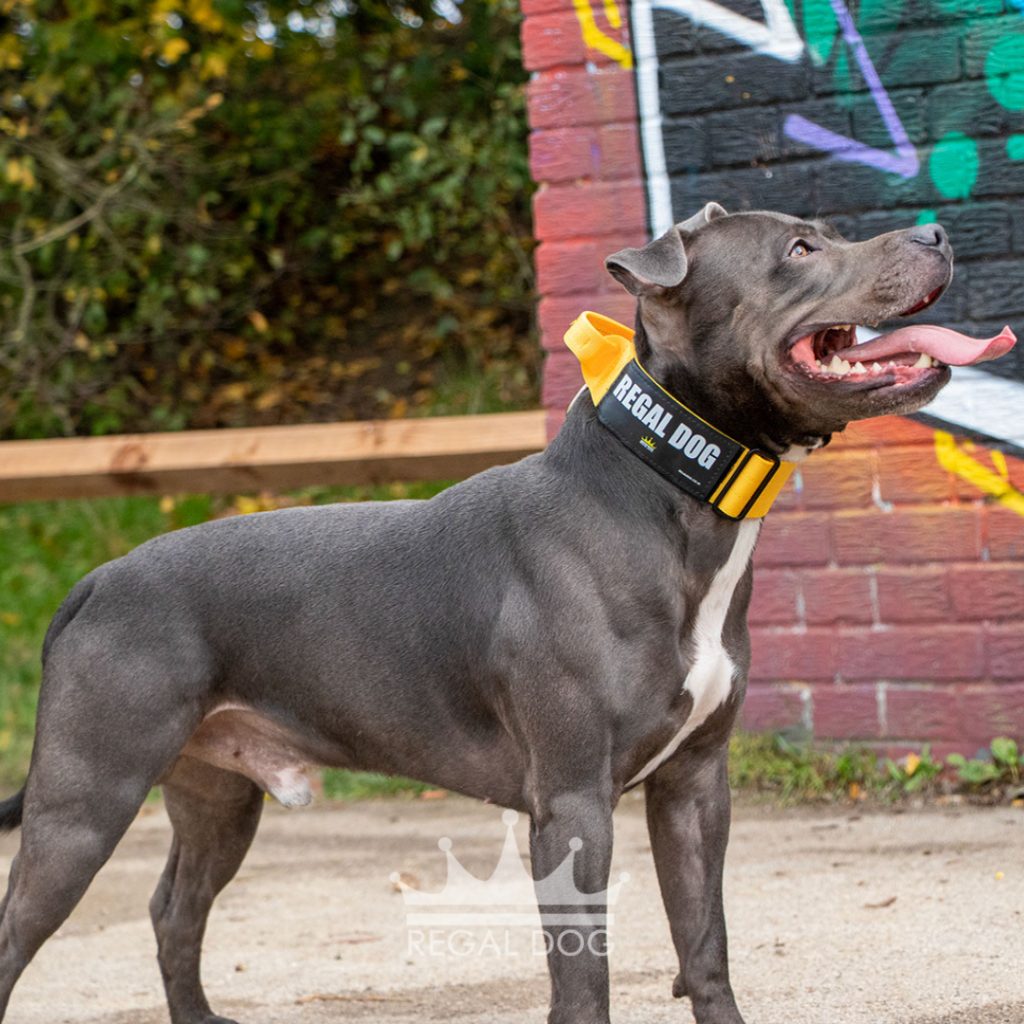 A wide collar is ideal for dogs that are pullers as it offers a much wider surface area which stops them from doing any damage to their wind pipe. Our tactical collars are ideal for all dog breeds especially large breed and working dogs.
Overview
Our tactical collars are available in 3 different sizes that can be easily adjusted for the most comfortable fit. The premium nylon webbing is triple stitched for improved endurance and has a handy changeable hook and loop patch. It is equipped with Heavy Duty Quick Release Buckle allowing you to easily attach and remove the collar.
The rolled handle allows you to easily gain control of any dog. Going for a walk is hassle free with an easy to locate central Stainless Steel D-Ring .The hand-stitched collar is beautifully constructed with military-grade nylon and heavy duty clasps for long-lasting durability.
Handle
The rolled handle allows you to easily gain control of any dog at those critical moments where you would normally have to hope to scoop your fingers between their collar and fur.
Patches
As we're sure you are aware, there are many types of dogs out there, sometimes its important or very helpful for others to clearly see import information about your dog. Our changeable Velcro patches are perfect for notifying others about your dog – In Training? Wary of strangers? Deaf? Guide Dog? Dog aggressive? Friendly? Personalise your dog's collar with a pre-printed Velcro patch that can be informative or funny. We have a wide range of Velcro patches such as GUIDE DOG, SECURITY, POLICE and DO NOT FEED.
We also offer our customers the ability to customise their very own patch to say what they need to. How about using the patch instead of dog tag? You can create your own personalised dog patch here.
D-Ring
Our Stainless Steel D Ring located conveniently on top of the collar, this allows you to easily hold a lead and the handle in a central position – ideal for protection and agility dogs.
The D-Ring we use is rated for 2500lb of tension – The D-Ring connection point is in a different location on this collar in comparison to other tactical collars on the market. It lays flat along the dog's neck in a downward position; This makes it easier when finding the D-ring in limited visibility, as it is always central to the handle.
Buckle
Our collars feature Heavy Duty Quick Release Buckles which are CNC machined from the highest grade 7075 aluminium alloy and feature solid brass and stainless internal release mechanisms. These will not let you or your dog down!
Material
The tactical collars feature highly durable Triple Stitched Nylon Webbing which not only comfortable and flexible but is also tear, break and snap proof (unfortunately nothing stands against canine chewing – well… the buckle will, but probably best to not let them get that far!)